Taskforce on Digital-Related Financial Disclosures
TDFD supports companies in their adoption, reporting and integration of Digital-ESG goals.
ESG for the digital economy. With the world's rapid digital transformation, companies will inevitably operate in a physical-digital world (phygital world). Digital-ESG does not replace mainstream ESG frameworks, instead serves as an extra layer to measure impact from an organization's digital economy activities.
Why Digital-ESG?
The digital economy already accounts for 30% of the global economy in 2022, or USD 30 trillion, after the COVID-19 pandemic triggered a rapid digital transformation. This digital transformation has already changed the reality of the world that we are living in. In the digital world, people face various digital-related risks, such as phishing, online sexual abuse of children, failure of crypto, massive customer data leaks, and more.
UN SDGs and existing ESG frameworks focus on the Earth's sustainability issues such as climate change, pollution, and wastes. The Digital-ESG framework combines these challenges in a holistic solution that can provide new perspective for how ESG frameworks should be inclusive and digitized.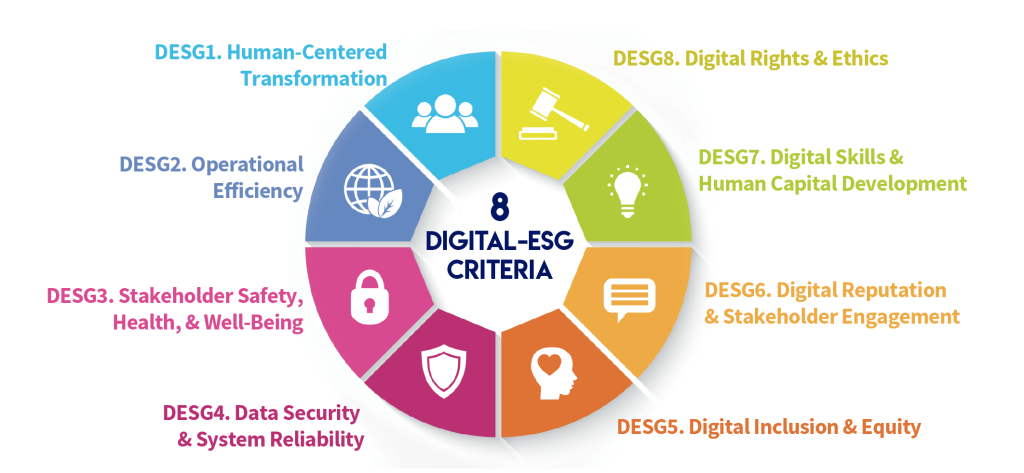 Join the
Taskforce for
Digital-related
financial
Disclosures
Be part of this groundbreaking effort
Looking for your next sustainability reporting idea? Want to champion digital transformation? Join our task force that supports companies in their adoption, reporting and integration of Digital-ESG goals.
We bring people, knowledge, and resources together to develop an evidence-based disclosure framework for risks and opportunities. 
A perpetual beta, evolving through accumulation of cross-sector knowledge and market-driven co-creation initiatives.